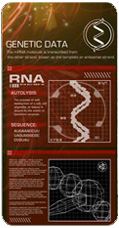 Created by Josh Finney and Kat Rocha
In the near future…
…science is able to distil human personalities into a drug-form. Called utopiates –a merging of the words utopia and opiate– these drugs allow users to swap personalities with the "mental imprints" of other people. Every user has their own reasons for seeking chemical escape, but all soon learn the cost of soul swapping is extremely high.
Follow the interconnected lives of four individuals addicted to injecting "souls" in the sci-fi series, UTOPIATES Vol.1, now available from 01 Publishing. At its core, this book is an unflinching portrayal of human behavior at its most extreme.

---
FAQ
How often does Utopiates update?
Every Tuesday and Thursday, usually between midnight and 9am pacific time.
Is this child appropriate?
This comic contains drug use, strong language, gun violence, references to sex and prostitution. It is up to you if you think it is appropriate for your children.
This book looks familiar, have I seen it before?
Yes. Utopiates was originally published in black and white by Bloodfire Studios in 2006. Josh and Kat are very happy to be able to present this story to you, in color after so long an absence from the story.
Can I get Utopiates in print?
Yes. A full color graphic novel published by 01Publishing is currently available for preorder on Amazon.com . If you can't wait for the release date, Josh and Kat do have a few copies of the original run of Issue 1 available for $3. This price does include shipping.